An artist seeks redemption in the Australian outback and Nepal.
= India trekking Nepal Kathmandu artist art sex Pilbara meditation =
Now available on Kindle at Amazon.com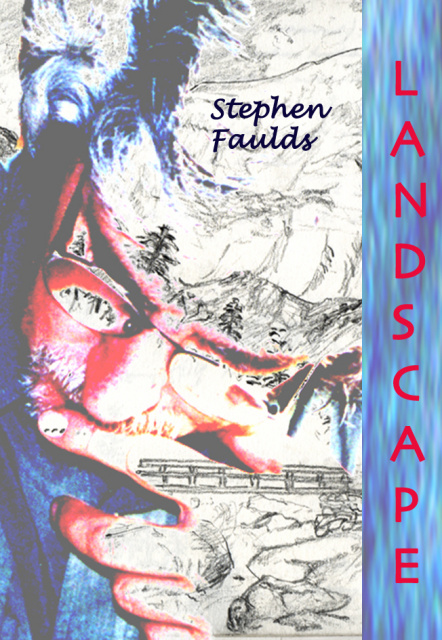 Purchase a copy at amazon and email your receipt stephen.faulds@bigpond.com for a free copy of Ian's Story.
Amazon U.S. http://www.amazon.com/dp/B004OR1UEU
Amazon U.K. https://www.amazon.co.uk/dp/B004OR1UEU
ISBN 9781458151339
Twitter message: Hi, finished Landscape last night and loved it! LottieChase 14.6.11
Reviewed by Lottie Chase at amazon.co.uk

4.0 out of 5 stars Refreshing fiction, 14 Jun 2011
By Lottie Chase - This review is from: Landscape (Kindle Edition)
Landscape breathes fresh air into the sometimes murky realms of travel fiction. Not only does it appeal to the inner globe-trotter but it also seeks to unearth the connections between body and mind, sex and love. Stephen Faulds expertly narrates this life-affirming novel as the ever-challenging protagonist Mark Brooker seeks to consolidate his midlife crisis with a spiritual quest that knows no boundaries.
From the depths of Australia to the peaks of the Annapurna Circuit, Faulds leads you on a trek like no other as you are guided through beautiful landscapes and tragic encounters.
A highly recommended read for anyone seeking to explore the raw truths of humanity and the fine lines that separate desire and love.
Beautifully Told!, June 27, 2012
This review is from:

Landscape (Kindle Edition)
Mark Brooker is an art teacher, existing in middle-age. His wife, Alison, informs him that she would like out of their marriage, forcing Mark to make some mid-life choices. He decides, after an unexpected monetary windfall and a similarly unanticipated intimacy with a young woman, to pursue his ambition as a landscape artist. Landscape is a beautifully told tale of mid-life crisis and the surprising new worlds that can open for anyone at anytime, plus the complications that can arise. The Australian countryside and mystery of India are fantastic and wild backdrops that illustrate the main character's life changes as well as Author Faulds relates the journey Mark takes in picking up the pieces of his life.
117,500 words approx.
Landscape is a novel of texture and colour from the arid north of Western Australia to the snow trails of the Himalayan Mountains. It is the story of a middle aged Australian art teacher on the Hero journey of an Artist in search of self realisation. When his wife ends their thirty year marriage, Mark Brooker sees his personal myths of love and happiness destroyed and replaced by the perils of relationships that are undefined. On a journey to salvage his life, he encounters the mystery of tribal art in the Australian desert and the archetypal dichotomy of Eastern spirituality and Western materialism in India and Nepal. Written with poetic prose and vivid imagery Landscape is literary fiction with commercial appeal, the tale of an unorthodox approach to the mid life crisis of an Australian baby boomer.

SYNOPSIS

Mark Brooker, a middle-aged art teacher, suffers the failure of an atrophied marriage and begins an affair with a young student teacher, Natalie, which alienates him from his teaching colleagues. He resigns from teaching and sets out on a personal odyssey to paint the landscape of the Pilbara. His artistic relationship to the landscape becomes the metaphor for his life and the environment in which he encounters his own mortality and sense of purpose. He travels to a remote community to learn the traditional use of pigments and incorporates what he has learned into his painting style.
When Natalie ends their relationship, Mark is traumatised by the loss. He wanders from his campsite, suffering dehydration, sunstroke and disorientation. His interest in the welfare of the dispossessed aboriginals of the town attracts the attention of some local rednecks who trash his campsite then burn his vehicle and paintings. He completes another, more inspired collection of paintings and returns to the city for an exhibition. He takes a young Aboriginal woman with him to help her begin a new life as a trainee teacher.
After a successful exhibition, Mark travels to Nepal on a trekking holiday to explore a different kind of landscape. He has a brief affair with a Dutch university student who is killed in a landslide. He lives for a time in Pokhara where he paints the mountain scenery. A casual encounter with a tourist turns to disaster when the woman stalks him and has him charged with assault. He spends time in a Kathmandu prison before the charge is upgraded to murder after the woman is found dead. The murder charge is eventually dropped, but his refusal to bribe police results in a vendetta. A visit to a brothel where he was offered and refused a thirteen year-old girl is used to fabricate a paedophile charge. While on bail, he escapes across the border into India.
After coming to the realisation that neither sex, nor painting, gave him complete satisfaction, he finds a Guru and devotes himself to meditation. He develops a platonic relationship with a young Indian woman before returning to Australia for the birth of his grandchild and an exhibition of his mountain paintings.

PAGE ONE

Mark Brooker holds up a print of Van Gogh's Self Portrait with Bandaged Ear. This is the high point of his lesson. He has done it so many times before. He always uses the self mutilation image to complete his description of Van Gogh's manic inspiration with his year twelve students. 'Crazed by the fierce sun at Auvers-sur-Oise, where he painted his wheat fields and crows, Van Gogh sliced off his ear with a knife. Hours later, brandishing his bandage, staring into a mirror with his small blue eyes, he captured a vision of the wasteland between insanity and genius.' The all girl class is mesmerised. Several girls in the front row suddenly squeal. They are looking at the floor in alarm. Mark looks down. There is a large, wolf spider with a black and orange wasp. 'It's okay. It won't hurt you,' he assures them. The girls aren't convinced. The whole class is staring at the intruders. 'He can't bite you, he's harmless. He is just going to a quiet corner to have lunch.' The girls begin to relax but they continue to stare. 'He has just saved you from worrying about the wasp. He's done you a favour. The wasp can't bite you, now.' Mark holds up the print again. 'No,' shouts one of the girls, shaking her head. 'The wasp has got the spider.' 'I don't think so.' Mark bends down to take a closer look. She is right. It isn't a spider carrying a wasp, it is a wasp, dragging a spider. 'Kill it!' someone yells. Mark realises he probably ought to. He can't have a wasp setting up a nest in the classroom. The wasp and the spider disappear under a small cupboard. Mark grabs the cupboard and drags it aside. The girls yell advice. He stamps the floor and flattens the spider. The wasp flips clear and raises its wings. 'Quick! Quick!' He stamps again and the wasp lies flat. There are gasps of relief and a smattering of applause. Mark looks up at the clock. It is the end of the period. 'Okay, that's destroyed my lesson. Out of here, all of you.' They join his laughter as they pack up to leave the room.

Mark Brooker props himself sideways on the pillow and flips open a small sketchpad. He draws a circle and begins to design an elaborate mandala with a careless, improvised symmetry, not unlike the manner in which he has lived his life.
His wife Alison is embalming herself beside him. The slicking of lotions on her skin irritates him. He sometimes wonders what she would do if she ever had an affair. Would she go through her usual evening slip, slop, slap before sliding into bed with some truck driver she'd met at a bar? Not that she would ever go to bed with someone she met at a bar. The smell of perfumed creams and lotions is not an aphrodisiac. Mark associates it with old age and palliative medication.
Alison rocks the bed as she turns off her reading light and settles under the doona. Mark pauses in his drawing until she is still. He knows better than to accuse her of deliberately disturbing him. When she is still, he resumes his drawing.
Careless inaccuracies with the inner circles of the mandala have resulted in a lopsided tilt as the pattern develops. The final result is a distorted image, as though it is drawn on fabric that has stretched. He drops the sketchpad on the floor and turns off his light. Alison is still. Mark's own breathing immediately fills the silence.
He sits up carefully, straightens his back, closes his eyes and begins a simple Buddhist meditation on the rise and fall of his breath. Within minutes, he is drowsy. He slides down under the doona and sleeps.


FEEDBACK

"This work is well above the norm when it comes to ideas and writing talent."
"You clearly have a writing talent and some very sophisticated techniques at your disposal."
"You write extremely well." "You have a definite talent for writing."
"We wish you the best in what we feel is likely to be a very successful writing career."
Margaret Johnson The Book Doctor.